Build Your Career in SEO from Scratch
SEO or Search Engine Optimization is the method used to increase both the quality and quantity of traffic generation to your web page using results from search engines. This further allows you to improve the visibility of your website for relevant searches. Through better visibility, you will be more likely to grab the attention of the audience and generate leads to your business.
In this 'Build Your Career in SEO from Scratch' blog, we will cover the topics mentioned below:
What does SEO do?
Companies, irrespective of their domains, have started to generate a lot of content in the form of articles, blogs, etc. This makes it difficult for you to create content that stands out and attracts the targeted audience. With the help of SEO, your website will start to rank higher through a couple of strategies. These strategies include using relevant keywords in all your web pages and throughout your website so that when users type those keywords in the search engines, your pages rank.
Check out our SEO video tutorial on YouTube designed especially for beginners:
Working on SEO
There are numerous career opportunities in SEO that require you to work on mainly two concepts: Generating relevant keyword-rich content and creating backlinks of good quality for your company's website. For every keyword that is entered by users in a search engine, it has an index depending on the relevancy, resulting in the quick display of the index and offering necessary outcomes to the users.
Search engines, including Google, use crawlers for indexing, which crawl on the complete web directory when users make searches. Besides, backlinks allow Google bots to discover the content you have published by crawling into authoritative websites. The SEO job description requires you to have the capability to not only generate backlinks from a few authoritative and relevant websites but also to be able to create them from multiple domains. This can quickly boost up the ranking of your content and also increase the traffic.

While pursuing a career in SEO marketing, you need to remember that the efforts that you put in would not have immediate results. Just like sowing a seed doesn't immediately grow into a tree, it takes time for your content to start ranking. The changes that you make on your website as per your research will reflect after a while.
Let's now take a look at the various career opportunities available in the SEO career path.
Search Engine Optimization Career Opportunities
You might wonder that if they are so much trouble and hard-work in SEO, then 'Is SEO a good career option?' Yes. SEO is a good career option as it is among the most sought-after careers in the Digital Marketing field.
There are several organizations around the world, hiring SEO professionals to generate better content and hence produce more business leads. With a career in this field, you will work directly with the stakeholders and help grow the business slowly and subtly. Besides, you will be working closely with the marketing team of your company so that the content aligns with the objectives and research.
Now, to become a successful SEO professional, you need to acquire a specific set of skills. Further in this blog, let's check out the necessary skills and how you can attain them.
Skills to Be an SEO Professional
With the advancement in SEO, it has become more complex over the years. This is why a career in SEO requires you to be an expert in several skills, and companies require them more than ever before.
To pursue a career in SEO, you must definitely be a dynamic leader. This quality of yours will allow you to keep yourself updated concerning the current market trends. Most search engines release multiple updates in a single year, and it can be difficult for companies to keep a tab on how these changes can impact the business. This is where you and your SEO skills come in the picture, and you are expected to update your company's website as per the latest updates released by these search engines.
Further, you need to gain in-depth knowledge of Digital Marketing and the role of SEO in it. You need to gain all the skills necessary to become an SEO expert. These skills include both technical and non-technical skills. Under the technical skill set, you should have knowledge of GSC, GA, and other Google tools.
With search engine algorithms changing regularly, as an SEO expert, you should have the capability to solve technical issues on the website and improve its visibility. To do this, you must have basic skills in HTML and CSS. Besides, you must know about meta tags, H1, status codes, etc., along with having the ability to resolve any crawl-based issues.
These are the technical skills that are required to pursue a career in SEO. Some of the non-technical skills you need to have to build a career in SEO include abilities such as analytical skills, critical thinking, research skills, flexibility, communication skills, and more.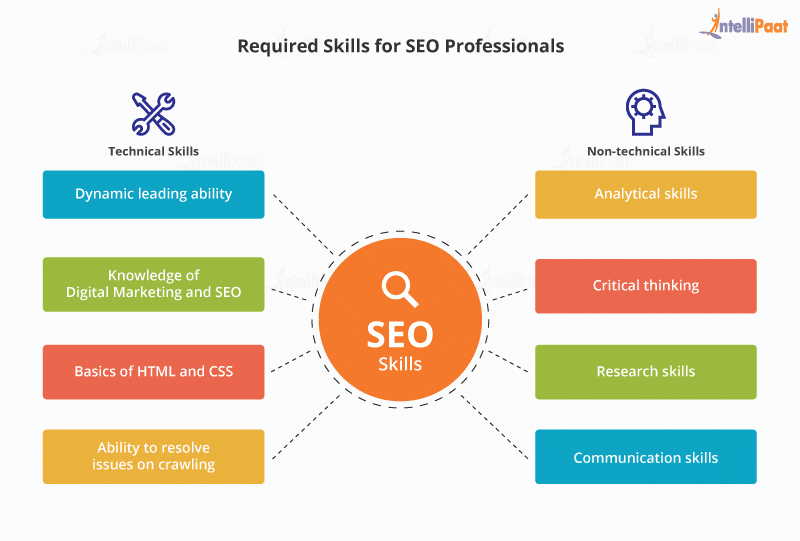 To acquire these skills, you must enroll in Intellipaat's SEO Training!
Let's dive into the various job opportunities available for SEO professionals.
SEO Job Profiles
Experts in SEO have a number of SEO opportunities to choose from. Some of the job profiles that professionals with this skill set can apply for are as follows:
SEO Specialist
Digital Marketing Executive
SEO Executive
Social Media Strategist
SEO Intern
Social Media Manager
SEO Analyst
Further, let's look at the salaries earned by SEO professionals.
SEO Analyst Salary
In the Digital Marketing domain, SEO career salary is among the highest. This is because SEO-skilled professionals are in high demand across the globe.
As per Glassdoor, the average salary of SEO Analysts is approximately US$69k per annum. In India, SEO Analysts earn an average of about ₹323k per annum.
Conclusion
This 'Build Your Career in SEO from Scratch' blog covers the significant steps you need to follow to become a professional in SEO. Further, here, you have learned about the numerous skills required to land a high-paying job in a reputed organization. You have also come across the numerous opportunities available in SEO, along with the salaries earned by the SEO professionals.
Sign up with us today to be a successful SEO professional!